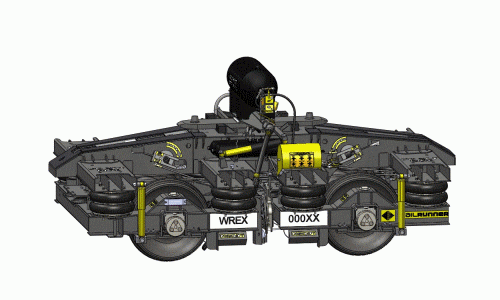 RailRunner®'s Intermediate Unit (IU) is an integral part of the unique bi-modal system. This bogie transforms the RailRunner chassis and/or road vehicle from highway equipment to a high-speed rail vehicle.
Features
High Speed Capability: RailRunner bogies have passed all AAR required tests at 70 mph and runs at speeds up to 100+ miles per hour.
Wheel Wear: RailRunner bogies feature radial steering that mitigates wheel wear and tear, reducing maintenance costs and extending product life.
Smooth Ride Design: Slackless coupling and air spring shock absorber dampened suspension on bogies insure damage-free transportation and attracts fragile, high-value payloads to rail lanes. The slack-free RailRunner coupler provides almost 100% less slack than conventional intermodal and 95% less slack than typical double stack.
Rail Car Components: RailRunner bogies are equipped with standard, commercially available railcar equipment including wheels, axles, bearings, and braking systems.
Symmetrical, Easy-to-Load Design: Intermediate bogies easily and symmetrically couple with special RailRunner chassis using their patented wedge-shaped, self-guiding design and failsafe-locking pins. Air suspension allows lifting of the road vehicle so that wheels clear the track.
Specifications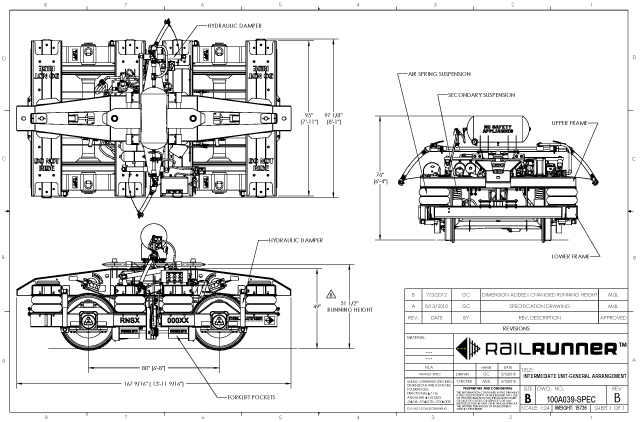 Width: 8′ 2″
Overall Length: 14′ 0″
Running Height: 51.0″ (top of rail to center line of drawbar)
Wheel Base: 6′ 8″
Weight: 14,500 lbs.
Max Operating Speed: 70 mph
Carrying Capacity of Bogie: 95,000 lbs.
Rail Wheels: AAR J-33, class C, AAR-1B tread
Roller Bearings: 6″ x 11″ AP type Raised Wheel Seat, Class E
Operating Air Suspension Pressure: 90 – 110 psi
Buff/Draft Capability: 400,000 lbs. according to AAR RP-257-90 standards and recommended practice
Brake System: NYAB TMB 60. Brake Valve DB-60 or equivalent and 1¼" i.d. brake pipe with gladhands
Forklift Pocket: For easy positioning of the bogie on and off the track; frees track space
Safety/Security: Optional security package, fully compliant with FRA safety requirements
Download this datasheet in PDF format.