RailRunner®'s unique reefer chassis can carry both domestic and/or international reefer containers and operates both over the highway as well as on the rail, serving markets that have gone traditionally underserved due to lack of convenient, safe, and uninterrupted cold chain service. The reefer chassis design is based on the proven 40′ bi-modal chassis design and uniquely includes a removable side-mount genset and high capacity fuel tank that can supply a six-day uninterrupted cold chain, continuous monitoring of temperature, fuel supply and GPS location. For domestic operation reefer containers can be manufactured using "picture frame" refrigeration units reducing weight and investment costs while increasing cubic capacity of the container.
Specifications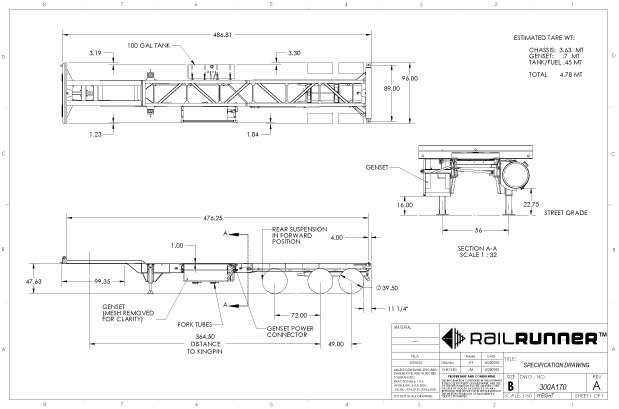 Designed Rail Buff/Draft forces: 400,000 lbs.
Overall length: 40′ 6″
Fifth wheel height: 48″
Overall width: 8′ 0″
Chassis Weight: 9,900 lbs. with empty tank and genset
Load Capacity: Road* 55,100 lbs., Rail 67,200 max., gross container weight (loaded)
Kingpin Location: 36″
Highway Suspension

Composite Leaf Spring Suspension
Moveable tandem wheelset
22.5 x 14.0 aluminum wheels
445/50R22.5 super single tires with Tire Inflation System (TIS)
2S/1M ABS air brake system

Rail Components

RailRunner receiver box
1¼ train line pipe and glad hand connections

Generator

Thermo King™ SGSM-3000 side-mount diesel generator
Five-day power supply with 100 gallon tank
* Subject to Federal and State regulations
Optional Features
Six-day Eco Power™ generator option with 20% greater fuel efficiency.
Pre-cleaner option for dusty conditions
Star Trak™ Gentrak™ GPS monitoring system; GPS tracking fuel levels and generator condition
Security enclosure and package including lockable fuel cap and wheel locks
Download this datasheet in PDF format.