RailRunner South Africa is innovative and dynamic company that offers impactful and revolutionary logistics solutions to South Africa's transportation infrastructure to lower shipping costs for container, coal and food transporters, and provide high returns to logistics operators and investors.
In 2013 Transnet described its "Market Demand Strategy" or MDS: "The MDS is a revolutionary transition in the life of Transnet. It marks a definitive move to demonstrate the role that state-owned enterprises should play in the development of our economy. In helping to restructure our economy, the MDS will also significantly change Transnet. We are poised to become one of the world's largest freight logistics groups and freight hubs…"
In August 2013, Transnet Freight Rail ("TFR") issued their Phase 3 document RFP EWS 730 : "FRAMEWORK OF THE BUSINESS PLAN FOR PROVISION, OWNERSHIP AND OPERATION OF BIMODAL TRANSPORT SYSTEMS WITHIN THE NATCO AND CAPECOR RAIL CORRIDORS". This document, more than two years in development, is a key element of MDS: "A switch from road to rail will reduce costs, congestion and carbon emissions". RailRunner South Africa (RRSA), offering the best bimodal transport system in the world, is a driving force in moving freight from road to rail in South Africa, and is a key pillar of Transnet's MDS.
In May 2015, RRSA and Transnet signed a Heads of Agreement ("HOA") under EWS 730 for RRSA to provide bimodal rolling stock and through its subsidiaries and joint ventures to provide bimodal rail services for shippers in South Africa and through other SADC countries. In Q3 of 2016, RRSA and Transnet reached a definitive Memorandum of Agreement ("MOA") for a twenty-year relationship.
Road freight transportation in South Africa presents a major economic and societal conundrum. Highway infrastructure is behind the demand curve, so building new infrastructure and maintaining existing infrastructure is a major national cost. Much of South Africa's economy is based on natural resource production: coal, mine products and agriculture. All currently result in high levels of road freight transport. The heavy trucking currently used to move these products:
Is labor intensive,
Consumes high amounts of fuel, which is expensively imported to South Africa,
Is damaging to the highway infrastructure,
Causes air, noise and other environmental pollution, and
Is widely recognized as unsafe and a threat to both pedestrians and other drivers.
In 2007 and 2008, logjams in South Africa's domestic coal distribution system contributed to widespread electric power losses that threatened economic productivity as well as the health, safety and comfort of individuals nationwide.
Traditional rail intermodal currently addresses less than 5% of road freight traffic according to Transnet Freight rail (1). Transnet's ability to modernize and expand its intermodal network is limited by the cost of rolling stock, the high cost of terminals, and complicated equipment and logistics requirements for operating container lift equipment in an electrified rail network.
RRSA offers a bimodal technology that can enhance Transnet's intermodal operations, provide solutions for the Eskom coal problem, expand Transnet's reach to new markets and encourage and grow a new class of logistics service providers in the market. This Confidential Information memorandum (CIM) summarizes the products and services that comprise the RRSA offering and its planned network operations for Transnet Freight Rail.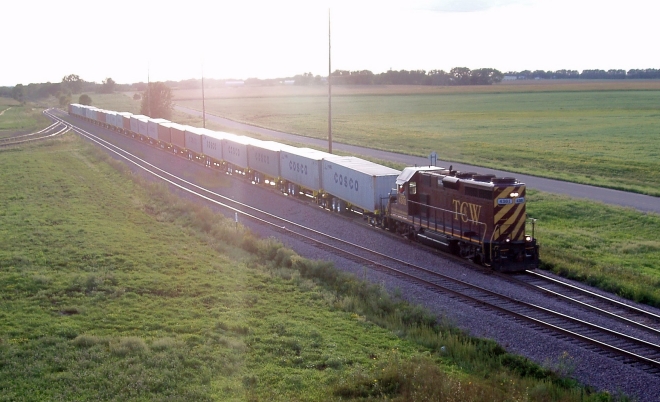 RailRunner Train in Route
RRSA has formed a wholly owned business unit, RailRunner Service Company, ("RSC") to provide the business infrastructure that allows TFR to extend its market reach and increase its conversion of road freight traffic to rail in key national markets. RSC will provide bimodal services to the market.
Footnotes
1 Siyabonga Gama, Railways and Harbours Conference, Cape Town, 2009