RailRunner has long been committed to developing its bi-modal rail plus road products in India and providing its Terminal Anywhere® services to the Indian logistics market. Benefits of this technology will enable operational, financial and technical gains for rail based transport operators in the Indian markets.
Operational
Higher carrying capacity per rake
Minimal handling of cargo
Works in electrified territory
Seamlessly Integrated first and last mile
Easy aggregation for full train load and efficient redistribution
Uninterrupted 'cold-chain' for perishables
Financial
Lower Capex requirement
Fewer land acquisition and terminal development issues
Cheaper handling infrastructure & equipment
8-10% fuel cost saving due to lower air resistance during operations
Technical
Higher Axle load design
Reduced coupler length for longer train and less inter unit gap
Reduced wear of wheel and track using the articulated and self steering bogie
Air Cushions for better ride quality
Increased operational speeds
Initially working with Amitava Mondal, founder of Envision Advisors, and other commercial and technical partners, RailRunner developed relationships with key players in the market, and with Indian Railways and RDSO. Under Mr. Mondal's guidance, the Company also initiated its homologation program.
During this period RailRunner's principal focus was on adapting its technology for Indian Railways' broad-gauge network. Significant advances were made with development of RailRunner's broad gauge intermediate unit (IU) bogie, which utilizes the advanced features that were developed in the US such as radial steering, air cushioned ride and ramp-based drive-on/drive-off loading technology. RailRunner also worked with Indian partners to complete designs for highway vehicles compliant with Indian highway regulations that also meet the requirements of bimodal operation on Indian Railways.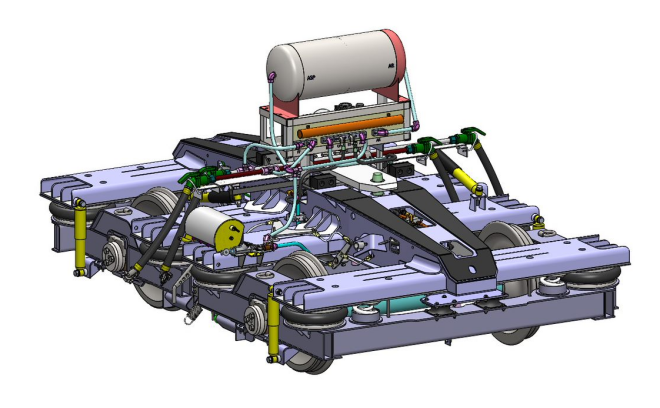 RailRunner India IU Bogie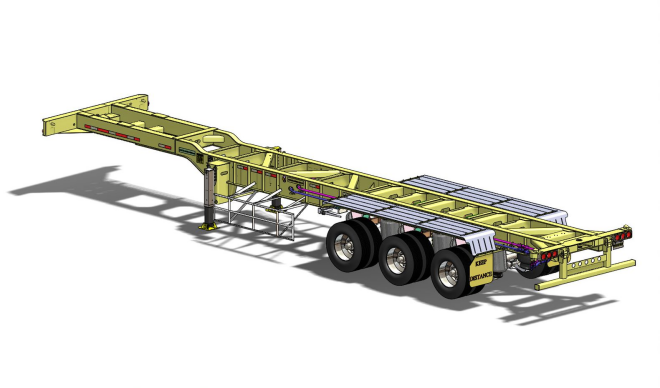 RailRunner 40 ft Container Tridem Chassis for India
RailRunner rail and road vehicle designs have received preliminary approval by RDSO to proceed in the homologation process.
In July 2018, RailRunner N.A., Inc. incorporated RailRunner Innovations Private Limited ("RailRunner India") in Delhi as a wholly owned subsidiary to bring RailRunner products and services forward in the Indian market. In October 2019, Manish Puri joined the RailRunner team as the CEO of RailRunner India. His long experience in logistics in general and Intermodal in particular, as well as his broad market knowledge, brings unique leadership to RailRunner India.