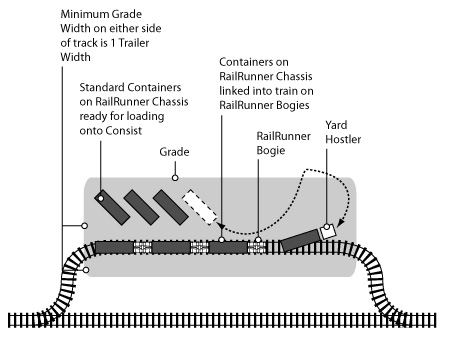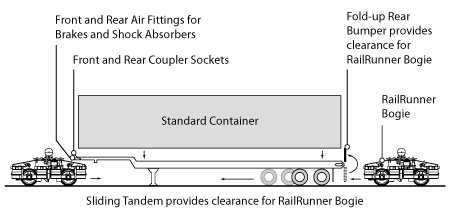 The RailRunner® bi-modal Terminal Anywhere system consists of three elements: Purpose-built chassis for rail and highway operation, able to carry 40′ to 53′ domestic and 20′ to 45′ international ISO shipping containers (a trailer solution can also be made available); Intermediate bogies to provide rail support between two RailRunner chassis on air-ride suspension; and Transition bogies to connect RailRunner consists to locomotive power or to another standard railcar. The RailRunner intermodal terminal itself can be located nearly anywhere. All that's required is an appropriate railroad siding, some gravel or concrete grading on and by the tracks and approximately 75 feet of maneuvering room for each unit or rail car.
Services
The RailRunner Terminal Anywhere Services include management expertise in the form of consulting, training and maintenance services, and software, for planning and support to facilitate:
Rail terminal space design;
Customer ownership of rail and highway assets;
Efficient operation of terminals and services;
Container sourcing;
Operations and maintenance training;
Asset tracking; and
Door-to-door shipping service.
Terminal Anywhere represents the RailRunner technology with its advantages of low operational costs and minimal investment required for setting up intermodal terminals. The planning tools for developing RailRunner terminals consist of specific software and hardware.
Software. RailRunner software consists of planning requirements for RailRunner terminals (in case no intermodal terminal is available or can be reached), M&R as well as operating manuals, continued training and instructions for building RailRunner trains/consists. Software also includes logistics management capabilities, as needed.
Planning Requirements:
Rail siding and/or spur (Length of Train/consist + 10%)
Service road 20′ wide, level grade alongside and/or in between track capable of accommodating 80,000 lbs. chassis
Reinforced storage area for chassis and containers
Fenced-in terminal area with lights, gate and office (Internet connection)
Software program to monitor and manage RailRunner daily operations
Hardware. In addition to the RailRunner equipment, both chassis and bogies, Terminal Anywhere requires hardware which consists of:
A tractor or yard hostler for moving chassis with containers as well as for assembly and disassembly of RailRunner train/consists
Air compressor supplying 120 PSI compressed air for operating air-suspension of bogies until connected to train and/or locomotive
Eventual: Fork-lift truck with 16,000 lbs. lifting capacity for managing bogie placement on and off the track
Attend or request a Terminal Anywhere Demo!
Download this datasheet in PDF format.