RailRunner®'s unique chassis can carry any standard domestic and/or international shipping container and operates both over the highway as well as over the rail. The specially designed chassis is built to withstand rail tension and compression forces of 400,000 lbs., sufficient for operating long trains with up to 150 container chassis and up to 5,200 trailing tons (depending on route parameters). Each chassis is equipped with patented RailRunner front and rear receiver boxes for coupling the chassis to the rail bogies as well as with 1 ¼" diameter air pipe with gladhands for compatibility with conventional rail braking equipment when traveling by rail.
Specifications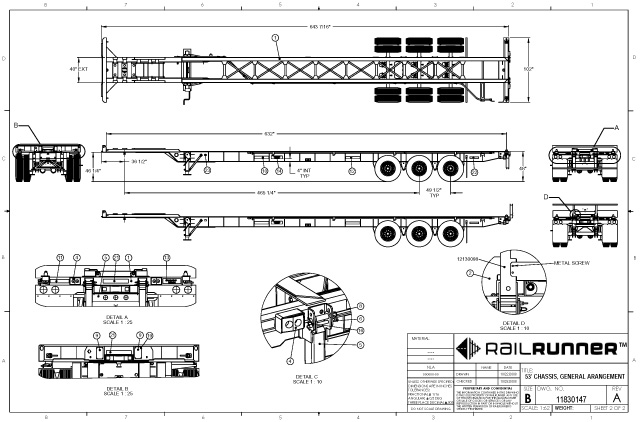 Designed Rail Buff/Draft forces: 400,000 lbs.
Overall length: 53′ .5″
Fifth wheel height: 48″
Overall width: 8′ 6″
Chassis Weight: 13,000 lbs.
Load Capacity: Road 41,000 lbs., Rail 67,200 lbs. max.
Kingpin Location: 36″
Highway Suspension

Fixed Position Tridem
Leaf spring suspension
8.25 x 22.0 steel wheels
11.0 x 22.5 tubeless tires
2S/1M ABS air brake system

Rail Components

RailRunner receiver box (Front and Rear)
1 ¼ train line pipe and glad hand connections

Other Components

Foldable bumper
Standard twist-locks
1″ high gooseneck flipper
Download this datasheet in PDF format.