RailRunner has been designed and approved for and operated commercially in North America. To operate in South Africa, the products require Cape Gauge homologation and certification for operation by Transnet Freight Rail.
Introduction
Railroads worldwide are regulated entities, regulated by private and public organizations alike. The purpose of regulations and standards are to insure the health and safety of rail workers and the public, and to insure the safe and efficient operation of the rail network. Technical standards have been developed to provide guidelines to ensure that all rolling stock, as well as other equipment such as signaling systems and repair equipment perform in a uniform way to insure the rail network's safety objectives. Throughout the world these standards are, at their core, very similar: They define mechanical strength, braking performance, physical size limits and dynamic performance on rail when in motion.
However, for various reasons, some cultural, some historical, some commercial and some military, the standards are different in different regions, mostly arising out of physical dimensions of the rail system, usually referenced to the track gauge. Other parameters such as side-to-side and overhead clearances for station platforms also define or constrain the gauge. An additional parameter, permitted train length which is usually limited by the length of passing sidings, has an influence (shorter trains require less material strength in certain respects because they pull lighter loads).
In North America and Europe "standard gauge is used, based on a track width of 1436 mm. In Russia and India, wide gauge is used, where the track width exceeds 1600 mm. Most of French influenced Africa uses Meter Gauge with a width of 1000 mm, and Southern Africa uses Cape Gauge at a width of 1067 mm.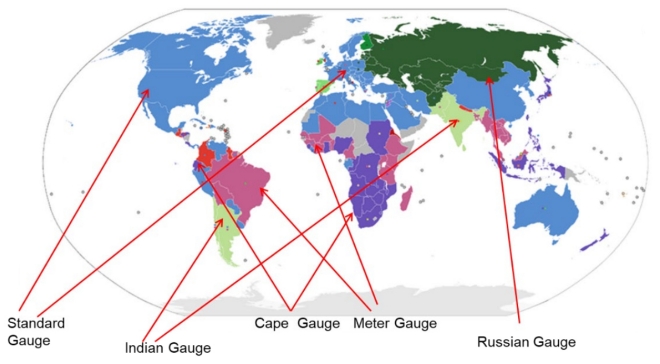 Gauge Map
The principal gauge types are distributed by region and country. Some countries such as Spain, Brazil, Chile and some African countries use multiple gauges.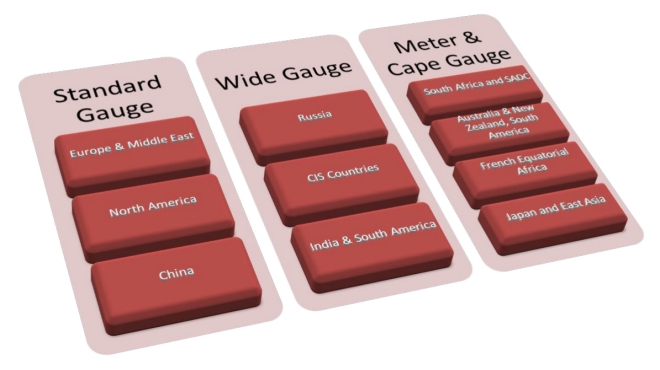 Gauges by Country
In bringing RailRunner's standard gauge bimodal technology to South Africa's Cape Gauge network, there are five factors contributing to project success:
RailRunner experience in North America
US RailRunner Design Engineers Contribution
South African Bimodal Standards and RailRunner South Africa
South African Design Engineers Contribution
Transnet Freight Rail Engineering Involvement
RailRunner Experience in the United States
After initial design and prototype manufacturing, RailRunner was extensively tested at the American Association of Railroads (AAR) TTCI testing center in Pueblo, Colorado (http://www.aar.com/index.html ) using the center's 48 mile track testing facility. Following this, RailRunner bimodal was extensively piloted on local short line railroads, and then approved by the Federal Railroad Administration for commercial operation on Norfolk Southern railroad. Since then, RailRunner has been approved for operation on CSX, Union Pacific, Twin Cities and Western Railroad, and NYSW railroad. On Norfolk Southern, in over 500,000 kilometers of commercial operation, RailRunner has not had a single reportable incident (any failure or violation, accident or other incident requiring reporting to the FRA). With respect to the safe and efficient operation of these units, it is important to remember that 50% or more of the units consist of standard rail components that are accepted throughout the industry and used on all other rail vehicles: Wheels, axles, bearings, air cushions, air brakes, hand brakes, etc.
US Design Engineering Team Contribution
RailRunner's North American design team has had extensive experience designing bogies and trailers for different gauges: Standard Gauge (North America), Broad Gauge (India) and Narrow Gauge (South Africa). In all these cases, RailRunner has developed detailed designs for the local gauge for its intermediate unit bogies, its transition unit bogies and its trailers. These designs have considered performance of standard rail components, strength requirements, rail and highway performance, loading, braking and dynamic train behavior, and clearance envelope among other issues. RailRunner transfers these highly engineered designs along with all its experiential intellectual property to local engineering and manufacturing companies to complete the manufacturing design steps so that the equipment can be manufactured to local standards in the local jurisdiction following local manufacturing and safety practices.
South African Bimodal Standards and RailRunner South Africa
Transnet Freight Rail (TFR), a state-owned company, is the national freight rail company in South Africa. It is part of Transnet Group, which also includes, ports, pipelines and other infrastructure related activities. In 2009, Transnet Freight Rail had no standard for accepting or describing bimodal operation in its network. RailRunner South Africa (RRSA) approached Dr. Robert Fröhling, the chief technical officer in charge of the company's freight wagon fleet with respect to developing an acceptable standard for bimodal operations at TFR. RailRunner provided Dr. Fröhling with appropriate technical information used by the AAR and other regulatory agencies for bimodal operations, and under his leadership and with support from RailRunner, Dr. Fröhling 's technical group produced the first TFR technical standard for bimodal, Document BBD 6482. This specification has had some minor revisions, but it formed the basis for four different TFR tenders for bimodal services which preceded RRSA's 20-year agreement with Transnet.
Following the execution of the RRSA-Transnet Agreement, Dr. Fröhling 's Mechanical Technology group wanted to develop more specific criteria for describing and testing bimodal performance on the TFR network, similar to other specifications for general freight wagons. Working closely with RailRunner's engineering team, the document entitled "Structural Requirements for Transnet Bi-Modal Road Rail Freight Vehicles S0001-20150730-4" was developed and approved during 2015. This document which governs design and manufacturing standards for bimodal on the TFR Cape Gauge network, was jointly developed between RailRunner and TFR.
South African Design Engineers Contribution
RailRunner N.A., Inc. has engaged two local South African companies to implement the manufacturing drawings and manufacturing process in South Africa.
One firm, Paramount Trailers (http://www.paramounttrailers.co.za) , has been building a wide range of trailers for the African market for over 20 years. From its 72,000 m2 , $150 million facility in Midvaal, near Johannesburg, Paramount produces flat deck trailers, tipping trailers, curtain side and hard-side trailers and a variety of specialized trailers that it markets in South Africa and across the SADC region. Paramount engineers are incorporating RailRunner technology and features into their extraordinarily successful line of highway rolling stock products. Paramount's proven reliability will enhance RRSA products on road and rail. Paramount's manufacturing skills and capacity will insure RRSA customers receive the best in bimodal trailers.
TMH Africa has been chosen by RailRunner to be the technology and manufacturing partner for RailRunner rail bogies. Formerly known as DCD Rolling Stock, the company recently merged into TMH Holdings, one of the world's largest railcar manufacturers. The company was founded in 1911, and manufactures from a 45,000 m2 facility in Boksburg, Gauteng province. TMH Africa produces a wide range of rail products for TFR as well as for other railroads in the African market, including locomotives, tank cars, specialized wagons, and, very specifically, bogies. TMH makes and sells bogies for their own product use and for other railcar and locomotive manufacturers. TMH is also tightly aligned with other rail-related manufacturers in South Africa. For example, TMH is sourcing the RailRunner bogie brake system from Knorr-Bremse South Africa, a local manufacturing subsidiary of world-famous Knorr-Bremse in Germany. (RailRunner's US products use brakes manufactured by New York Air Brake, another Knorr-Bremse subsidiary in the US.) TMH engineers and manufacturing personnel have been designing and manufacturing Cape Gauge products, especially bogies, for more than 100 years. TMH has completely internalized RailRunner technology and working with RailRunner and TFR is advancing the design into certification and manufacturing. TMH Africa is not only one of South Africa's best bogie manufacturer's, it is also one of the best in the world. TMH acquired DCD Rolling Stock so TMH could broaden its marketing effort world-wide. RailRunner directly benefits from their experience and expertise.
Transnet Freight Rail Engineering Involvement
When RRSA executed its 20-year agreement with Transnet, part of the contract included RailRunner adhering to a "Design Compliance Matrix". In addition to RailRunner's participation in the specification documents referenced earlier, TFR Mechanical Technology group created a design compliance matrix defining virtually every step in the product design process. RailRunner and its partners are coordinating TFR approval from Dr. Fröhling and his team for each step in the Design Compliance Matrix before moving to the next step. This process assures TFR that RailRunner equipment complies in both design and manufacturing to the standards maintained by TFR. So not only is the final homologation phase being implemented by a firm with over 100 years' experience designing and building bogies in South Africa, but TFR Mechanical Technology, which is the testing agency, is involved in every step of the design and manufacturing process to assure operation that is both efficient and safe.
Summary
Homologation and certification are big words with a somewhat mysterious meaning to most people. However, the principles of railroad engineering have been highly developed on a continuous basis since the early 19th century and are widely understood in the technical community. Homologation is simply applying those principles to the local environment in a rational manner. There is no more rational way to do this than to use firms that have decades of experience providing these local products. Certification is the process of testing to be certain that these principles have been correctly applied in the manufactured product. The system in place by TFR Mechanical Technology demands and assures that the TFR's high standards are designed into the products from the beginning. When these products are manufactured by a highly skilled manufacturing company such as TMH Africa (ISO 9001 Qualified) under the sharp eyes of TFR's technical experts, the testing process becomes a routine and transparent quality assurance step, not some secret black-magic process. The process is enhanced through engaging local expertise and involving TFR Mechanical Technology throughout.