Mike Daniel
CEO and Managing Director, RailRunner South Africa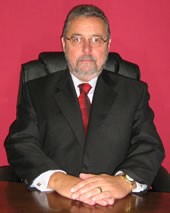 Mike Daniel began his career in the mining industry, obtaining his Mine Overseer's, Mine Manager's and BSc. Mining Engineering degree as he progressed to the position of General Manager of JSE listed mines and ultimately Consulting Mining Engineer for the group. He was responsible for the technical and strategic direction of 5 mines (gold, chrome, platinum, diamonds and emeralds) as well as a greenfields project valued at R1 billion plus.
Moving to an engineering company supplying products and services to the mining industry, Mike was responsible for a number of large capital projects and mining contracts. In his pursuit of innovation, together with his international network he developed the Aardvark (with GHH Germany), psychometric testing for multi-skilled underground workers (with Dover Institute), selective blasting for the chrome industry. Other projects include development of a ropeless winder for ultra-deep mines.
After heading the SA office for a multi-national engineering company supplying heavy engineered equipment to the Ports, Government and Mining Industries, Mike then established Kaleida Project Management Company (KPMC) to pursue innovative solutions for the mining, engineering, logistics, supply chain management and bulk materials handling industries. This led to a relationship with RailRunner North America to introduce their innovative bi-modal system to Southern Africa. In line with the government and Transnet's vision to protect infrastructure by moving freight from road to rail, RailRunner South Africa was formed to adapt the technology and to provide a much needed and flexible service to encourage a quicker move of freight from road to rail at competitive pricing throughout SADC.
Mike Daniel
RailRunner South Africa (Pty) Ltd.
5 Clarke St. North
ALRODE
ALBERTON
PO Box 414
NORTHRIDING
2162
SOUTH AFRICA
www.railrunner.co.za
Office +27 10 599 0271
Cell +27 81 550 2020
Fax +27 82 888 4422
mike.daniel@railrunner.co.za

Zamani Jali

B. Iuris (Bachelor of Law) majoring in Private Law (Contracts; Delicts; Succession; Persons and Things) Mercantile Law (Insolvency; Negotiable Instruments; Immaterial Property law)
Work Experience:
Managing Director: Menston Energy (Pty) Limited (wholesalers of liquid fuels and lubriacants)
Chairman: Sabeil (Pty) Ltd (trading crude oil and refining components)
Chief Executive Officer: Tosaco Commercial Services (Pty) Ltd ("TCS")
Director Exel Petroleum (Pty) Limited
Legal Counsel, British American Tobacco (Sub-Saharan Africa and the Indian Ocean Islands)
Director, British American Tobacco Sierra Leone
Regulatory Affairs Manager, British American Tobacco (Southern Africa).
Non-executive Director and shareholder – Liquid Automation Systems (Pty) Limited
Non-executive Director and shareholder – LAS CoolSorption (Pty) Ltd
Executive Director – Legal and Business Affairs, EMI Music SA
New Markets Development Manager (Retail), Shell South Africa
Assistant Manager Market Studies (Retail), Shell Nederland Verkoopmaatschappij BV (Nederlands)
Public Affairs Coordinator, Shell South Africa (KZN & Free State)
Retail Aftermarket Coordinator, Shell South Africa
Director & Exco member Total South Africa (Pty) Limited
Director Tosaco (Pty) Limited
Managing Director & CEO Tosaco Commercial Services (Pty) Limited
Director Black Management Forum
Sibongile "Bongi" Cynthia Twala

BSc Chemistry (National University of Lesotho), Diploma Industrial Marketing (University of Cape Town).
Over 20 years management / leadership experience. Worked for major local and international organisations in South Africa in human capital management, business development, marketing, organisational management, corporate governance and transformation, setting strategy and vision, building teams, conflict resolution, change management, stakeholder management, ethics, training, HR strategy, workforce planning, staff retention interventions, policy review, organisational change, skills audit, youth skills development and work readiness and HR workflow.
Executive Director Corporate Accounts (PAG), Joint Managing Director (SAFIC), Group Human Resources Director (Premier Foods), Managing Director Jobvest, General Manager Business Development (Fedics), Business Development Manager (Lever Industrial), Senior Manager Quality & Product Development Manager (Lever Industrial/Hudson & Night), Process Quality Manager (Unifoods).

Sizo Jali

Attended Hilton College and the Tygerberg College School of Golf and Sports Management
Sales Assistant, The World of Golf, Woodmead, Johannesburg
Business partner Treger-Jali Sports CC
Member of Touchline Media's 'Golf Digest' publication team and freelance TV presenter of 'The Golf Bag' SABC3
Sales Executive Leisure Brands (Pty) Limited
Business Development Executive Menston Energy (Pty) Limited
Director Technorail (Pty) Limited
MD Frontrow Ventures (Pty) Limited
Member of the Hilton College Marketing Committee