Mike Daniel
Managing Director, RailRunner South Africa


Mike Daniel began his career in the mining industry, progressing to the position of General Manager of a JSE listed mine by the age of 29, obtaining his Mine Overseer's and Mine Manager's qualifications on the way. He was appointed to manage a greenfields mining project valued at R1 billion. Upon obtaining his BSc. Mining Engineering degree, he progressed to Consulting Mining Engineer in the Group, responsible for the technical and strategic direction of 5 mines (gold, chrome, platinum, diamonds and emeralds).
At an engineering company supplying products and services to the mining industry, Mike was responsible for a number of large capital projects and mining contracts. Together with his international network he developed the Aardvark (with GHH Germany), psychometric testing for multi-skilled underground workers (with Dover Institute), selective blasting for the chrome industry and is working on mechanized cleaning methods and hydropower rockdrills to improve productivity and safety in mining.
As General Manager for a SA office of a multi-national engineering company supplying heavy engineered equipment to the Ports, Government and Mining Industries, Mike secured new fields of supply and the company enjoyed unprecedented growth.
Mike established Kaleida Project Management Company (KPMC) to provide innovative solutions for the mining, engineering, logistics, supply chain management and bulk materials handling industries. His eye for innovation lead to a relationship with RailRunner North America to introduce their innovative bi-modal system to Southern Africa. In line with the government and Transnet's vision to protect infrastructure by moving freight from road to rail, RailRunner South Africa was formed to adapt the technology and to provide a much needed and flexible service to encourage quicker rail services at competitive pricing.
Mike Daniel
Kaleida Project Management Company (Pty) Ltd
Fancourt Office Park
Cnr Northumberland & Felstead Sts
NORTHRIDING
PO Box 414
NORTHRIDING
2162
SOUTH AFRICA
www.kpmc.co.za
Office +27 11 462 0577
Cell +27 82 888 4422
Fax +27 11 462 0561
mike.daniel@railrunner.co.za

Ayman Hedayat
Managing Director, RailRunner Egypt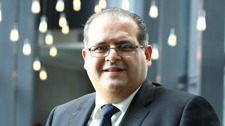 Mr. Heyadat has more than 25 years of experience in business consulting, commercial agencies and trade affairs for heavy industrial machinery and equipment in the Egyptian market. He started his career in family business for Ferrostaal A.G. – FIT Dept, selling railway equipment and spare parts.
Among Mr. Hedayat's achievements are contracts with Egyptian National Railways and Alexandria Passenger & Transportation Authority for wheels, tires and axles from Mafersa Brazil, Lucchini Group, Italy. He has participated in suppying breakdown cranes to Egyptian National Railways, and both permanent way paving cranes and diesel electric mobile harbor cranes from Mannesmann Demag Gottwald GmbH to Damietta Shipping & Container Handling, Port Said Shipping & Container Handing Terminal, and Suez Container Handling Terminal.
Additionally, Mr. Heyadat has consulted for various UN Bodies, such as ILO, WFP, MDF-F (UNIDO, UNDP, ILO and UN-Women), and as a Project Management professional he was extensively involved in the creation of ICT – Satellite VSAT Services, licensing and contributing to several smart city urban projects both in Egypt and abroad.
He holds a B.Sc. in Mechanical Engineering from the American University in Cairo, and an Import Export Management Diploma from AUC in collaboration with London City College.
Ayman Hedayat
RailRunner Egypt
Nile City Towers – North Tower
23rd Flr. – Suite 2328
Ramlet Beau Lac, Cornich El Nile
11624, Cairo, Egypt
Tel +202 2461 8670
Fax +202 2461 8501
ayman.hedayat@railrunner.com