Ayman Hedayat
Managing Director, RailRunner Egypt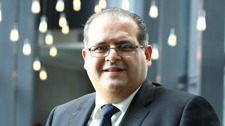 Mr. Heyadat has more than 25 years of experience in business consulting, commercial agencies and trade affairs for heavy industrial machinery and equipment in the Egyptian market. He started his career in family business for Ferrostaal A.G. – FIT Dept, selling railway equipment and spare parts.
Among Mr. Hedayat's achievements are contracts with Egyptian National Railways and Alexandria Passenger & Transportation Authority for wheels, tires and axles from Mafersa Brazil, Lucchini Group, Italy. He has participated in suppying breakdown cranes to Egyptian National Railways, and both permanent way paving cranes and diesel electric mobile harbor cranes from Mannesmann Demag Gottwald GmbH to Damietta Shipping & Container Handling, Port Said Shipping & Container Handing Terminal, and Suez Container Handling Terminal.
Additionally, Mr. Heyadat has consulted for various UN Bodies, such as ILO, WFP, MDF-F (UNIDO, UNDP, ILO and UN-Women), and as a Project Management professional he was extensively involved in the creation of ICT – Satellite VSAT Services, licensing and contributing to several smart city urban projects both in Egypt and abroad.
He holds a B.Sc. in Mechanical Engineering from the American University in Cairo, and an Import Export Management Diploma from AUC in collaboration with London City College.
Ayman Hedayat
RailRunner Egypt
Nile City Towers – North Tower
23rd Flr. – Suite 2328
Ramlet Beau Lac, Cornich El Nile
11624, Cairo, Egypt
Tel +202 2461 8670
Fax +202 2461 8501
ayman.hedayat@railrunner.com